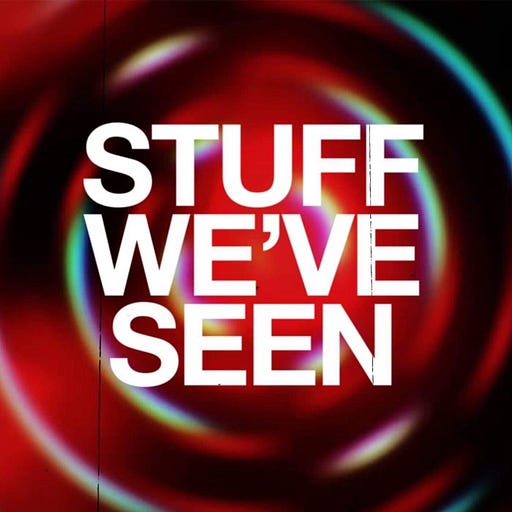 Apr 13 • 1HR 10M
2022 BFI Sight & Sound Greatest Films List
Examining the Worst Selections
Stuff We've Seen with Jim and Teal brings together two old friends and their mutual love for movies. We have over 90 years of combined film watching experience and while that doesn't make us authorities, it does mean we have have opinions and aren't afraid to share. Our podcast is an eclectic mix of old and new films, different genres, and a focus on experience as much as analysis. We discuss our film obsessions, our disappointments, and our pet peeves, with digressions into film trivia, personal experiences, and movies we thought we had forgotten.
In the words of blogger and critic Girish Shambu, one of the consultants and contributors to the 2022 BFI Sight & Sound Greatest Films of All Time poll, it's time to put the subjectivity back into selecting the greatest films of all time. Still, subjectivity is a two-way street, and Jim isn't shy about what he likes and does not like about the 264 selections that comprise this 2022 list.
If you, dear reader and podcast listener, have been following the story, Jim is taking the BFI challenge and watching every single film on the list. Thankfully, he's an avid film watcher and had a good start before this undertaking. However, there were still large chunks of missing entries in his filmography, and this adventure expanded his film-watching horizons.
Should all films be a challenge to the viewer? Do popular movies have a role in what is considered great? This list of films is testing Jim's quest for greatness, and he's ventured deeper into the list for a better understanding of who voted for these films and, when offered, why.
On this episode of Stuff We've Seen, Jim and his trusty co-host Teal focus on some of the titles that, for whatever reason, Jim does not believe warrant a mention on anyone's submission list. Each critic, historian, blogger, curator, what have you, only gets ten slots. Ten slots? An impossible task, this much Shambu admits, and Jim agrees. Only ten. How to choose? Silly Jim thought the idea was to submit a list of what someone believed to be the ten greatest films of all time. What he's discovered, however, is that many of the critics lists he's peeked in on have agendas, and greatness is not often the criteria.
For example, Girish Shambu made a conscious choice with his list to blow up what he calls the straight white male canon. I guess he believes there are enough of them submitting lists that they'll take care of Hitchcock, Scorsese, and the lot. Shambu went a different route, touting your top-of-the-heap winner for 2022, Jeanne Dielman. He also picked Lizzie Borden's 1983 dystopian feminist adventure, Born in Flames. Jim uses the latter film as an example of the list gone wrong. Born in Flames came in tied for 250th place, and while not a terrible film by any stretch, its filmmaking merits are choppy, it feels dated even for 1983, and the central storyline goes weak long before its budget and run-time run out. Even if Shambu was trying to make a point, Jim could think of a dozen better examples, including Borden's more successful 1987 offering, Working Girls.
To add insult to injury, Shambu submits for, we guess, his amusement, Greg Araki's Smiley Face. That's not even one of the four best Greg Araki movies, never mind one of the ten greatest films of all time. Does Shambu think it's a great movie? He felt strongly enough to use a precious selection on a film he knows no one else will choose, but does that effectively represent the greatest films of all time, and what the Sight and Sound poll is trying to do?
That takes us back to subjectivity again. In Shambu's words, the straight white male canon, or SWM as he refers to this group, are the objective ones who look for greatness strictly through the lens of conformity choices. Subjectivity serves as a catch-all for that way of thinking. How can we argue with Girish Shambu when subjectivity allows for different interpretations? Jim does not fully agree with Shambu, or barely at all, although Jim concedes that there are some films on the list whose time has come and gone, and should probably be retired from the canon. Films like The General and Intolerance are two films that Jim was less than enamored with, and he feels some critics are devoted to the past in a nostalgic way that refuses to let some silent films fade away as if their exclusion from a list like this would erase them from people's memory.
Where do you come into this debate? Have a listen to our episode, and let us know your thoughts. Jim and Teal will bring you more looks at the BFI list over the next year, and we welcome your takes. And yes, we may have been a little hard on Girish Shambu this episode, but we know he loves film, and he is always more than welcome to stop in for a visit to the Stuff We've Seen podcast to mix it up.
BTW: In this episode, we've tried something new, and we don't really know how well it works, will work, or if it will work at all. Podbean allowed us to include chapter marks for the episode. If you are looking for particular content, here we discuss specific things in our episode: 03:40, we begin talking about the BFI list. 08:00 We discuss Med Hondo's West Indies: The Fugitive Slaves of Liberty. It is one of the hardest films on the list to track down, and Jim is heading to see a screening at the Harvard Film Archive on April 14. 12:30 – Jim and Teal begin discussing Born in Flames. 30:00 We discuss Girish Shambu and his selection criteria for submitting his list to the BFI. 41:00 – discussing some of the silent films on the list that Jim did not care for. 52 min – Jim and Teal debate the inclusion of television series like Historie(s) Du Cinema, which Jim does not believe should qualify as a film at all. 54:44 – Jim shares his disdain for wacky experimental films like Wavelength and Blue and questions the rationale for their inclusion. 1:02:50 – Jim and Teal end with a shout-out to Antonioni's Red Desert, which Jim recently watched and loved.